Pick of The Week July 30th 2012
4 Superb Collections Listed This Week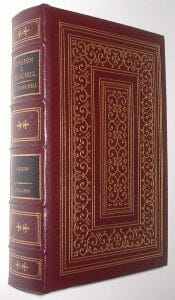 – 12 Volumes Sir Winston Churchill Official Biography Easton Press c1997 SOLD
The definitive biography – Martin Gilbert collaborated with Randolph Churchill on the first two volumes, then went on to write the rest of this Official Biography on his own, over a period of nearly 25 years. It is the highest tribute to the twentieth century's greatest statesman.
Bound in Luxurious Leather each volume accented with 22ct gold. Each book has moiré fabric endsheets, acid-neutral paper, gilded page ends, and a permanently bound-in satin ribbon page marker. Spines are beautifully decorated with gilt and have 5 raised bands. Each volume has the unused Easton Press supplied Bookplate.
– 14 Volumes Henry Irving Works of William Shakespeare Gresham 1907
The Works of William Shakespeare edited by Sir Henry Irving, and Frank A. Marshall. The works include the Tragedies, Comedies and Histories the Sonnets and the Poems. The First Folio (1623) has been followed, except in very few instances. There is an Introduction to each play, divided into three heads; The Literary History, The Stage History Of Each Play, which is unique among the many editions of Shakespeare´s works, and Critical Remarks.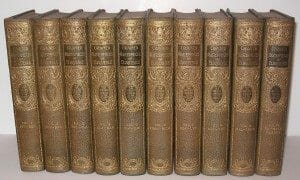 – 10 Vols Crowned Masterpieces of Eloquence The Advance of Civilisation IUS 1911
Crowned Masterpieces Of Eloquence, representing the advance of civilization, as collected in the world's best orations, from the earliest period to the present time. Victorian Edition, complete in ten volumes, as collected in the "World's Best Orations" .
This is an amazing reference book for anyone interested in history and the world's most influential people.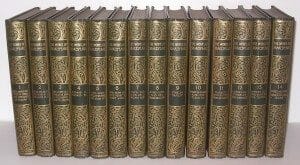 – 4 Volumes William Ewart Gladstone and His Contemporaries Archer Gresham 1898 SOLD
Memorial edition revised and extended by Alfred Thomas Story – in 4 volumes. This fascinating biographical account of William Ewart Gladstone's life, explores his seventy years of social and political progress.