Superb Anthony Trollope Sale
In his own time, Trollope's novels were as popular with the common reader as they were admired by George Eliot, Henry James, George Bernard Shaw and Nathaniel Hawthorne. Today, he is probably the most widely read and loved nineteenth century English Novelists after Dickens and Jane Austen.
A series of books set in the imaginary English county of Barsetshire remains his best loved and most famous work, but he also wrote convincing novels of political life as well as studies that show great psychological penetration. One of his greatest strengths was a steady, consistent vision of the social structures of Victorian England, which he re-created in his books with unusual solidity.
Starting in 1989 The Folio Society began publishing the first complete edition of Trollope's novels and continued at the rate of several per year until all 47 novels had been published.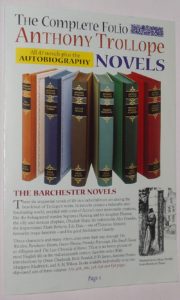 This superb uniformly bound complete collection is generally available on my website together with the edition that was later produced by the Folio Society for the Trollope Society.
View now The Complete Folio Society Anthony Trollope Novels
View now The Trollope Society Novels
For a limited period, I have reduced the price of all my stock of individual novels to the amazing price of £9.99 which when you consider that the postage alone, which by the way is included in the price, in most cases costs me £5.50 is a real bargain.
View now Castle Richmond