Waverley Novels Large Type Border Edition Complete 24 Volumes
The first of Scott's Waverley Novels burst upon an astonished world in 1814. Its publication marked the emergence of the modern novel in the western world, influencing all the great nineteenth-century writers.
The first definitive edition was the 48-volume set published between 1829 and 1833 by Robert Cadell (named the "Magnum Opus" by Scott), and was based on previous editions, with new introductions and appendices by Scott.
The Border Edition edited by Andrew Lang was an update on the Magnum Opus edition with new material researched by Andrew Lang and was published by two different publishers in the
24 Volume Edition, John C Nimmo (1898-1900) & Macmillan (1900-1906)
The complete set in 24 volumes of the Large-Type Border Edition, edited by famous folklorist Andrew Lang, an authority on Sir Walter Scott and his biographer, contains Lang's introductions.
This Complete 24 Volume Set Contains;
I Waverley
II Guy Mannering
III The Antiquary
IV Rob Roy
V Old Mortality
VI Heart Of Midlothian
VII Montrose & Black Dwarf
VIII The Bride Of Lammermoor
IX Ivanhoe
X The Monastery
XI The Abbot
XII Kenilworth
XIII The Pirate
XIV The Fortunes Of Nigel
XV Peveril Of The Peak
XVI Quentin Durward
XVII St. Ronan's Well
XVIII Red Gauntlet
XIX The Betrothed & The Talisman
XX Woodstock
XXI Fair Maid of Perth
XXII Anne Of Geierstein
XXIII Count Robert Of Paris/The Surgeon's Daughter
XXIV Castle Dangerous & Chronicles etc.
Features;
Publisher John C Nimmo, London; 1898-1900
Publisher Macmillan & Company Ltd., London; 1900-1906
Green Cloth Hardback with Gilt Titles and Decoration
This set contains 250 Superb Illustrations
Size 200 x 140mm, 17.5kg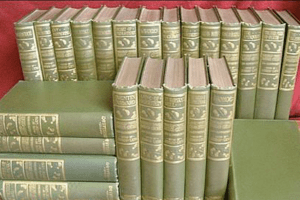 Things To Look Out For;
Check For Uniform Edition not part Nimmo part Macmillan
Check for Loose or Missing Illustrations
Check All the Hinges for Cracking and Check the Soundness of the Bindings
Check For Foxing (Brown/Orange fungal staining)