The Selected Works of Jane Austen 5 Volumes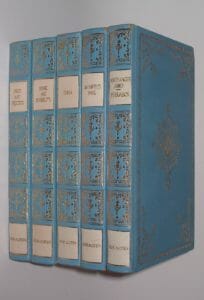 If one English novelist were to be selected for purity of style, Jane Austen, the quiet recorder of love and manners among the lesser landed gentry, would be a popular choice.
One of the principal wonders of literature, she laid her victims bare with unerring intuition. Her pen was deliciously wicked – but wit was her weapon – astringency and, perhaps, gentle irony. And always her prose was pure delight.
These fine, beautiful, powder blue volumes have been created as a tribute to Jane Austen. Bound in real lambskin, these books are ornately embellished with 23ct gold on spines, covers, and all page edges.
All Miss Austen's six classics:
Sense and Sensibility
Pride and Prejudice,
Mansfield Park
Emma
Northanger Abbey/Persuasion
These books were also all available in theLiterary Heritage collection in Navy Faux Leather, however, a few of the titles in this edition are very difficult to find nowadays.
Browse Heron Books For Sale
If you have a Set or Part Set For Sale, why not email me at; sales@hcbooksonline.com