The Collected Works of Agatha Christie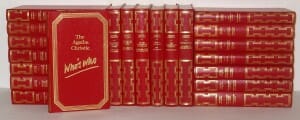 Complete in 41 Volumes
Even before you reach the bottom of the first page, an Agatha Christie thriller has you utterly, hopelessly, ecstatically hooked! There is simply no escape, as you are drawn inexorably into the labyrinth of intrigue . . . hypnotised, tempted, thrilled, deceived . . . until at last, breathless and bewildered, you see the murderer unmasked in the final drama of revelation. From the pristine neatness of Hercule Poirot's moustache to the twinkle in Miss Marple's china-blue eyes, the magic never fails.
Murder On The Orient Express/A Murder Is Announced
Why Didn't They Ask Evans/The A.B.C. Murders
The Murder Of Roger Ackroyd/Death In The Clouds
Death On The Nile/They Do It With Mirrors
The 4.50 From Paddington/10 Little Niggers
Ordeal by Innocence/Cat Among The Pigeons
Cards On The Table/Three Act Tragedy
At Bertram's Hotel/Thirteen Problems
Crooked House/Passenger To Frankfurt
The Mysterious Affair At Styles/Poirot Investigates
N or M?/A Caribbean Mystery
Curtain/Sleeping Murder
Poirot's Early Cases/Postern Of Fate
Nemesis/The Mirror Crack'd From Side to Side
Sparkling Cyanide/Partners In Crime
Hallowe'en Party/Third Girl
Dumb Witness/The Hollow
Sad Cypress/Five Little Pigs
The Mystery Of The Blue Train/Hercule Poirot's Christmas
Endless Night/They Came To Baghdad
Destination Unknown/The Murder At The Vicarage
Lord Edgware Dies/Towards Zero
Murder In The Mews/The Seven Dials Mystery
Dead Man's Folly/Elephants Can Remember
The Sittaford Mystery/After The Funeral
One, Two, Buckle My Shoe/Evil Under The Sun
The Murder On The Links/The Secret Adversary
Peril At End House/The Pale Horse
Appointment With Death/Murder Is Easy
Taken At The Flood/Hickory, Dickory, Dock
Mrs. McGinty's Dead/The Labours Of Hercules
The Moving Finger/The Body In The Library
The Mysterious Mr. Quin/Death Comes As The End
The Listerdale Mystery/The Clocks
By The Pricking Of My Thumbs/Parker Pyne Investigates
The Adventure Of The Christmas Pudding/The Hound Of Death
The Big Four/Murder In Mesopotamia
A Pocketful Of Rye/Thirteen For Luck
The Man In The Brown Suit/The Secret Of Chimneys
And The Who's Who Reference Of The 2,000 Characters Featured In All 66 Mystery Novels And 147 Short Stories.
There was also published in uniform binding, "The Mystery of Agatha Christie" written by Gwen Robyns and dated 1978. (Many thanks to Toirleac for adding this information)
If you have a set or part set For Sale, why not email me at; sales@hcbooksonline.com
Buy Heron Books at Heron Books