The Complete Works of Charles Dickens The Centennial Edition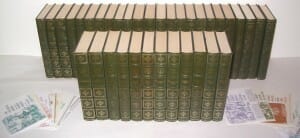 Published by Heron Books in 1970 to celebrate 100 years after the death of Dickens, this was a superb complete set of Charles Dickens Works. This set came in three editions, namely the Standard Green Faux Morocco Leather Edition, the De-Luxe Burgundy Soft Faux Calf Leather Edition and the Quarter Brown/Burgundy Full Leather Edition with Gilt Portrait and Dickens Signature To Front Cover (USA edition?).
The export(?) edition can be seen at Dickens Centennial Edition
The novels were illustrated by a mixture of the brilliant work of the original illustrators – Phiz, Tenniel, Cruikshank etc. and some modern contemporary illustrators.
This set was primarily sold by Mail Order Subscription with back copies always available. Each Novel Came With A Novel Summary giving a Short Introduction And Providing A Short Summary Of The Novel
This Classic Set Comprised Of The Following 36 Volumes;
A Child's History of England
A Tale of Two Cities
American Notes/ Pictures from Italy
Barnaby Rudge I
Barnaby Rudge II
Bleak House I
Bleak House II
Christmas Books
Christmas Stories I
Christmas Stories II
David Copperfield I
David Copperfield II
Dombey & Son I
Dombey & Son II
Great Expectations
Hard Times
Little Dorrit I
Little Dorrit II
Martin Chuzzlewit I
Martin Chuzzlewit II
Miscellaneous Papers I
Miscellaneous Papers II
Nicholas Nickleby I
Nicholas Nickleby II
Oliver Twist
Our Mutual Friend I
Our Mutual Friend II
Pickwick Papers I
Pickwick Papers II
Reprinted Pieces
Sketches by Boz I
Sketches by Boz II
The Mystery of Edwin Drood/Master Humphrey's Clock
The Old Curiosity Shop I
The Old Curiosity Shop II
The Uncommercial Traveller
Features;
Publisher Heron Books, London; 1970
Standard Set – Green Kidron (Faux Morocco Leather), Decorative Board And Spine, With Title In Gilt Lettering, Gilt Design On Front Board And Yellow Ribbon Marker.
De-Luxe Set – Burgundy Faux Soft Calf Leather, Gilt Page Tops, Decorative Board And Spine, With Title In Gilt Lettering, Gilt Design On Front Board And Red Silk Ribbon Marker.
Export Set? – Quarter Full Brown/Burgundy Leather with Gilt Portrait and Dickens Signature To Front Cover, Full Gilt Page Edges, Yellow Ribbon Marker.
Superbly Illustrated Throughout
Individual Book Size 210 x130mm
Specific Points to Look Out For When Buying This Set;
The covers on the Green Faux Leather Edition can dry out giving a tendency to split the cover at the external folds near the spine, you may also find losses at the edges where the Kidron has gone brittle.
It is fairly common to find loss of Gilding to the Titles, this has two known causes, 1) Fading by Sunlight, 2) Fading by Poor Cleaning as the Gilt can Rub Off
Browse Dickens Heron Books at Heron Dickens Books
If you are missing any volume from either of these sets then it is always worth while sending me an email of your requirements as I do have many duplicate individual copies which may not always be listed.
If you have a Set or Part Set For Sale, why not email me at; sales@hcbooksonline.com